I have a new set of Hotchkis Springs 1″ lowers in the front and the rear. However my rear is a little low. The Hotchkis part numbers are 1901R, or 19930003 springs, but I'm going to install something that give me a little higher rear as the front springs are a little too much of a pain to change.

Trying out a pair of Moog, 5413's, they should arrive from Amazon.Com tomorrow. I'll show the after photo later.
Decided against the new rear springs instead went with Air Bags and I kept the Hotchkis 1″ lowering springs.

You can see the bug is a little higher, but not too much so, overall I'm happy with the look/stance for now. Next year I'll probably cut the springs.
Update 4: The bags I have are these  and officially they are called Drag Bags.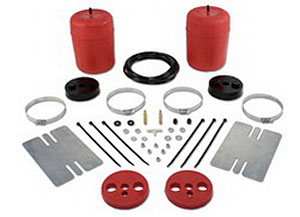 .
Update 5: My tires on the front and rear are 28″ tires. 275/60 R15s on the rear, and 235/70 R15's on the front. I could lower the front by putting on a smaller tire, but the tire would also ride below the wheel well.